Whitepaper
The changing face of accountancy: How workflow technology futureproofs firms
The accountancy industry is evolving fast – increasing client demands, shorter turnaround times for jobs, the need for staff to spread themselves across multiple pillars. These changes are only accelerating, which means firms need to adopt a future-first mindset in order to see their businesses thrive.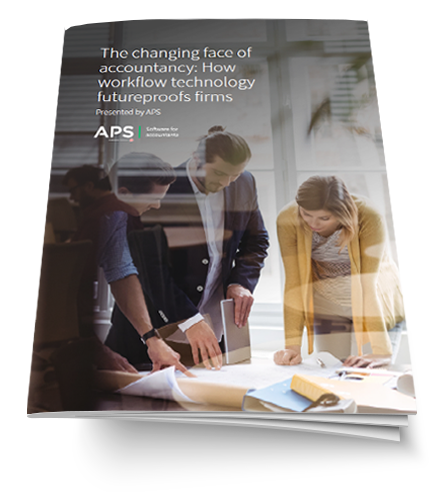 Workflow Whitepaper
This whitepaper will explore the level of change occurring in the financial sector, and particularly what accountancy practices must do in order to adapt to such dramatic changes.
Key takeaways:
The future is now: Get to grips with the rise of the distributed workforce, shifting client expectations, and the emerging technologies you need to embrace in order to drive new efficiencies.
Why you need to manage the changing environment: Automated workflow is the solution to rapid digitisation. Learn how to stay competitive in an unfamiliar market.
Futureproofing in action: Hear from an experienced accountancy partner about the technology solutions helping his firm thrive.
Start your journey today: Uncover the most common threats faced by accountancy firms today, as well as how APS Workflow can help you take back control.
Armed with these insights, you'll be able to ride out the industry's inevitable evolution while adopting a workflow solution that streamlines your operations – and boosts your practice's bottom line.
Download this whitepaper today.